Exhibit Guidelines
Exhibit Guidelines
◆ Booth
1

Equipment

As shown on the right, back and
side panels andbooth
umber plate will be provided.
* Carpet will not be provided.
* Panels will not be provided for island booths.
Panels will not be provided on aisle-sides for corner booths.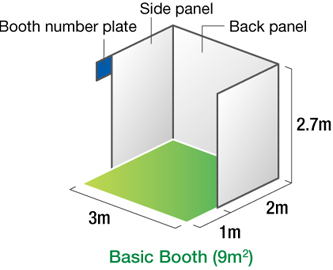 2

Layout Type

3 types are available:
Single-row
Double-row (available for 4 booths or more)
Island (available for 8 booths or more)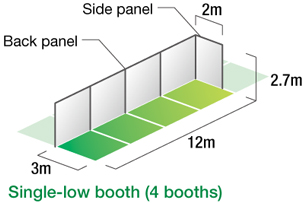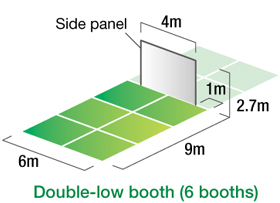 3

Allotment

The organizer decides booth allocation taking exhibits, booth size, demonstration plans, dates of application, etc. into the consideration.
◆ Application
1
Application Please complete the
application form
and send it to Tokyo Aerospace Symposium 2015 Management office.
Tokyo Big Sight Inc.
3-11-1, Ariake, Koto-ku, Tokyo 135-0063, Japan
Tel. +81-3-5530-1324 Fax. +81-3-5530-1222
2

Deadline
Deadline: May 29 (Fri.), 2015
Application will be closed prior to the deadline once all booth space is booked.
3

Withholding & Revocation

 In case the organizer judges the exhibit is unsuitable for this exhibition, it may withhold or revoke the application.
◆ Fee
1

Exhibit Space Fee

JPY 350,000 (exclude tax) /1 booth (9m

2

)

* 1 unit booth = 9m

2

(WDH: 3m×3m×2.7m)

* Package booths are also available. Please refer to the supplement "

Package Booth Guide

".
2

Included in Exhibit Space Fee

① Exhibit space, back panels, side panels, and booth number plate
② Invitation ticket *Quantity is determined by booth size.
③ Operation and promotion of the exhibition by the organizer
④ Exposure through exhibitors list on official floor map and handouts
⑤ Safety management and security guard fees
3

Not Included in the Exhibit Space Fee

① Decoration, construction, and operation fee of each booth
② Construction fee and any other charge of electricity, water, gas, etc. for each booth
③ Fee of advertisement on official handouts
④ Damage insurance on exhibits, etc.
⑤ Expense for injuries arising during exhibition, demonstration or transporting of exhibits, etc.
⑥ Expense for renovating booth decoration, structure, etc. required by regulations and exhibition rules.
⑦ Other expense not listed on "3) Included in Exhibit Space Fee."
4

Payment

After acceptance of application, the organizer will issue an invoice to the applicant
Payment Deadline: June 30 (Tue.), 2015
* Cash remittance in Japanese Yen only.
* Bank charge is to be paid by the applicant along with exhibit space fee.
(Chargeable JPY 10,000 for each bank remittance.)
5

Cancellation

Once an application is accepted, withdrawal is not allowed in principle.

If the organizer deems it legitimate, the application may be withdrawn with cancellation fee the below.
Date of Cancellation (Acceptance of Written Notice)
Cancellation Fee
After, June 1(Mon.), 2015 Before, June 30(Tue.), 2015
50% of Total Exhibit Space Fee
On / After, July 1(Wed.), 2015
100% of Total Exhibit Space Fee
Schedule
February 2015
Application Starts
May 29 2015
Application Deadline
June 30 2015
Payment Deadline of Exhibition Booth Fee

August 2015 (scheduled)

Exhibitor's Briefing:
Issue of Exhibitor's
Manual & Booth Layout
October 14-16 2015
Tokyo Aerospace Symposium 2015