Exhibit Guidelines
Special Promotion Unmanned Aircraft Systems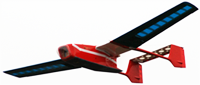 Venue
West Hall, Tokyo Big Sight
(inside Tokyo Aerospace Symposium 2015 site) 
Event Contents
(1) Exhibits of Unmanned Aircraft Systems, Related Services, Related Components, Peripheral Equipment, R&D, etc.
(2) Demonstrations of Unmanned Aircraft Systems (Demonstration area is provided for shared use of exhibitors)
*The organizers will coordinate authorization and scheduling, etc., for demonstrations.
*Only exhibitors of the area are allowed to demonstrate.
Special Assistance from
Japan UAS Industrial Development Association (JUIDA), Japan UAV Association, Mini-Surveyor Consortium, Autonomous Control Systems Laboratory
Target Exhibits
Unmanned Aircraft Systems
Related Services

Agrochemical spraying, surveying/measuring, airborne imaging, video production, environmental survey, security, infrastructure survey, equipment maintenance, facility monitoring, materials management, forest/ coastal management, natural disaster response, rescue, etc.

Related Technology

Related systems, sensors, batteries, motors, communication devices, control devices, image receiving devices, cameras, etc.

R&D
Target Visitors
Public Agencies
Local Authorities
Agriculture
Distribution
Construction and Civil Engineering
Infrastructure Survey
Movie Production
Research Institutes – etc.
Basic Booth Specifications
Exhibiting fee
150,000 yen per booth
(not including tax)
Exhibiting area
4m2(2m×2m)per booth
Accessories
System panel 2m (back)×1m (sides),
exhibitor nameboard*1, punched carpet*2,
power outlet (500W).
*1 Installed only if the exhibitor wishes.
*2 Color can be chosen from a color chart to be available at a later date.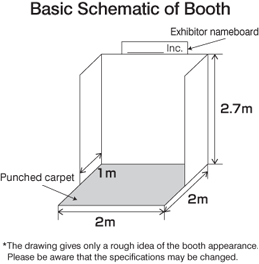 Application
1

Application

Please complete the application form and send it to Tokyo Aerospace Symposium 2015 Management office:
Mail: Tokyo Big Sight Inc.
3-11-1, Ariake, Koto-ku, Tokyo 135-0063, Japan
E-mail:aerospace-sympo@tokyo-bigsight.co.jp
2

Deadline
May 29 (Fri.), 2015
*Application will be closed prior to the deadline once all booth space is booked.
3

Withholding & Revocation

In case the organizer judges the exhibit is unsuitable for this exhibition, it may withhold or revoke the application.
4

Payment

After acceptance of application, the organizer will issue an invoice to the applicant.
Payment Deadline : June 30 (Tue.), 2015
*Cash remittance in Japanese Yen only
*Bank charge is to be paid by the applicant along with exhibit space fee.
(Chargeable JPY 10,000 for each bank remittance.)
5

Cancellation

Once an application is accepted, withdrawal is not allowed in principle.

If the organizer deems it legitimate, the application may be withdrawn with cancellation fee the below.
Date of Cancellation
(Acceptance of Written Notice)
Cancellation Fee
After, June 1(Mon.), 2015
Before, June 30(Tue.), 2015
50% of Total Exhibit Space Fee
On / After, July 1(Wed.), 2015
100% of Total Exhibit Space Fee
Schedule
March 2015
Application Starts
May 29 2015
Application Deadline
June 30 2015
Payment Deadline of Exhibition Booth Fee

August 2015 (scheduled)
Exhibitor's Briefing :
Issue of Exhibitor's
Manual & Booth Layout
October 14-16 2015
Tokyo Aerospace Symposium 2015
Contact
Tokyo Big Sight Inc.
Tokyo Aerospace Symposium 2015 Management office
3-11-1, Ariake, Koto-ku, Tokyo 135-0063, Japan
Tel. +81-3-5530-1324 Fax. +81-3-5530-1222
E-mail:aerospace-sympo@tokyo-bigsight.co.jp